EVERYONE STARTS AS AN OUTSIDER.
 
DOMREBEL was founded in 2003 in Montréal by two university students, Justin Svatina and Don Nguyen, with $350 between them. With no prior knowledge of the fashion or clothing industry, their story is an example of how everyone, in one way or another, starts as an outsider and underdog.
After making a handful of t-shirts in their garage for themselves and their friends, Justin & Don set out to build a brand that stood for doing more with less. No money? No knowledge? No network? No excuses. If you make something interesting, then people will eventually open their doors to you (but sometimes it can take longer than you expect).
Justin & Don knew that the only way they could stand a chance to compete and make noise in a crowded industry like fashion would be by making exceptional products... things that people could talk about and share. So, they focused their efforts on making the best hand-made t-shirts they could. Their tees were screenprinted by hand, vintage washed in their parents' laundry machines, ripped and distressed one by one, paint splattered and hand-studded with crystals. Even if they weren't to everyone's taste, those t-shirts got people in Montréal, and eventually Canada and the world, talking and paying attention.
Between 2003 and 2005, Justin & Don travelled across Canada and managed to get their collection of home-made t-shirts sold at 75 of the country's top retailers. With the money they made, they then invested in doing international trade fairs and, by 2007, DOMREBEL was sold at 200 retailers in 20 countries. They were also asked to make special outfits for clients like U2, Guns N Roses, Rihanna, Jamie Foxx, Cirque du Soleil, Tiesto, Chris Brown and many more.
Today, the brand is sold at almost 500 luxury retail locations in 35 countries. The brand is still self-financed and owned by its original two founders. And after 15 years of making t-shirts, the brand embarks on an exciting new chapter in art, media, entertainment and fashion, hoping to have a positive impact by bringing excitement and energy into people's daily lives.
In 2018, for the first time since the early years of the brand, DOMREBEL re-introduced a denim collection in its lineup. Featuring hand-distressed Italian denim jeans and jackets, the brand made many custom pieces for celebrities and performers.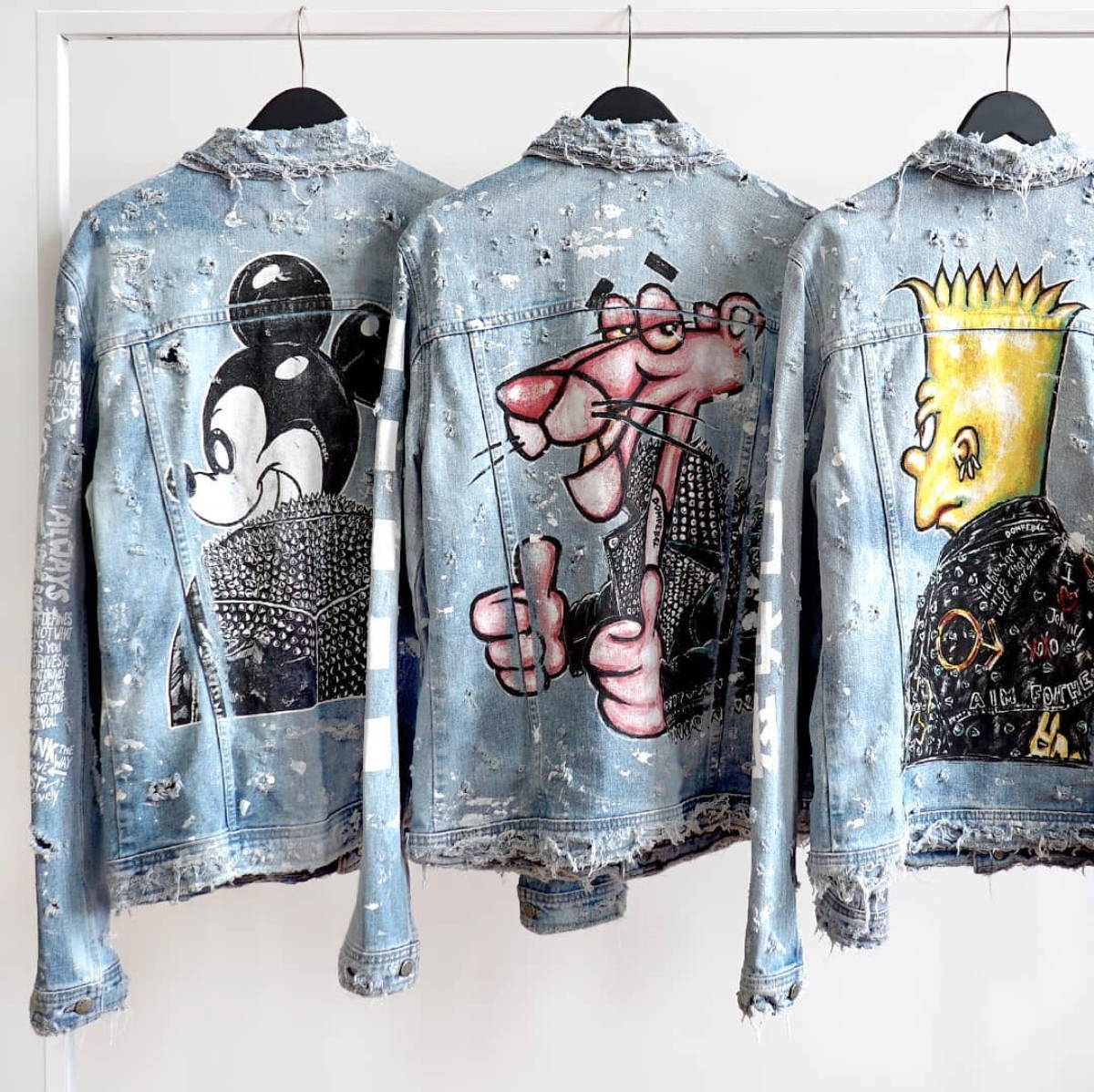 In 2017, DOMREBEL began exploring various ways to expand its artwork capabilities beyond apparel products. This marked the company's first steps towards creating original art that could live on its own, as well as within the media and entertainment spaces.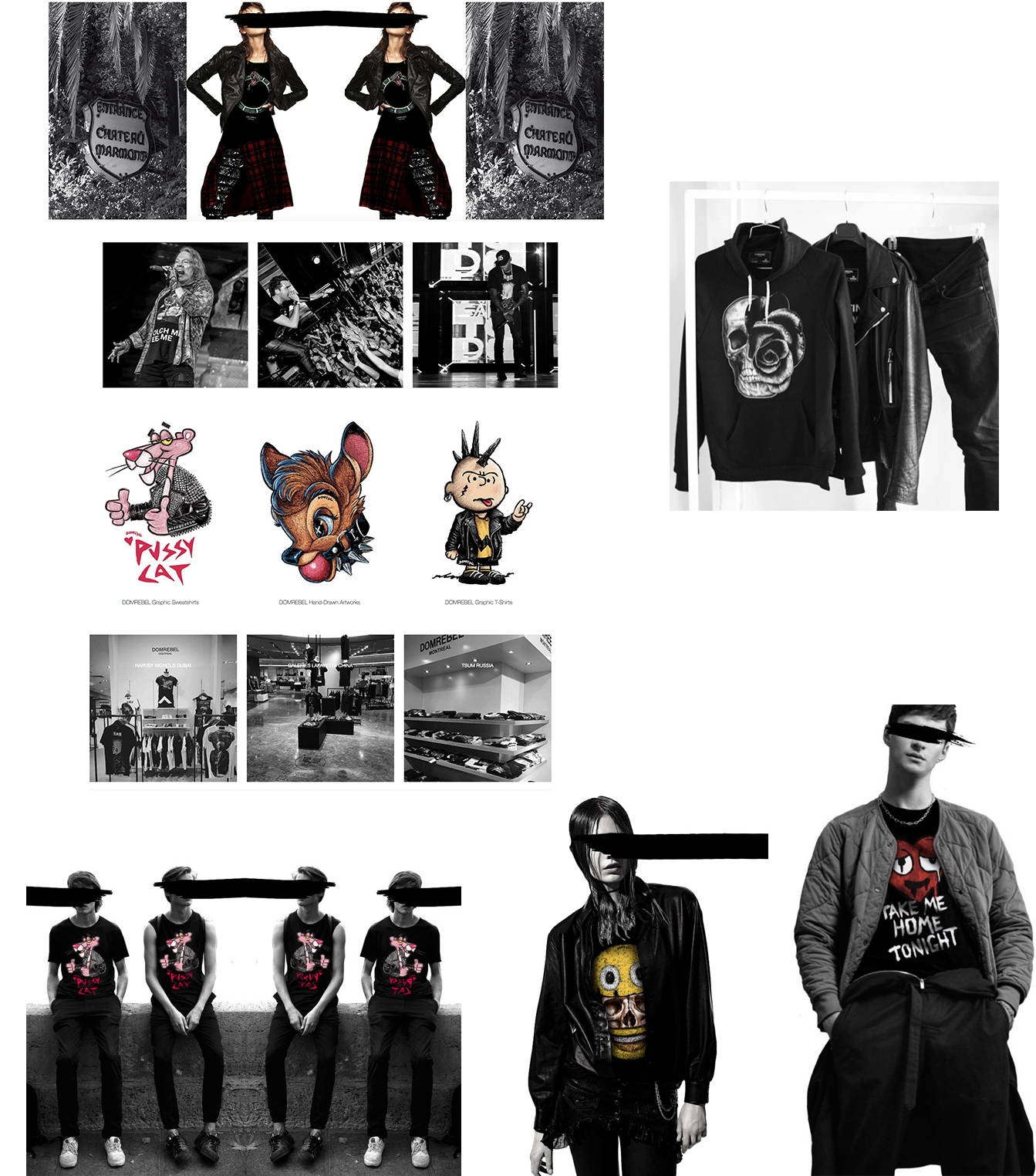 In 2016, Guns N' Roses started their worldwide reunion tour. Axl Rose wore DOMREBEL t-shirts at the majority of their shows, including their very first reunion concert at the Troubadour in Los Angeles, and during their headline performance that Summer at Coachella.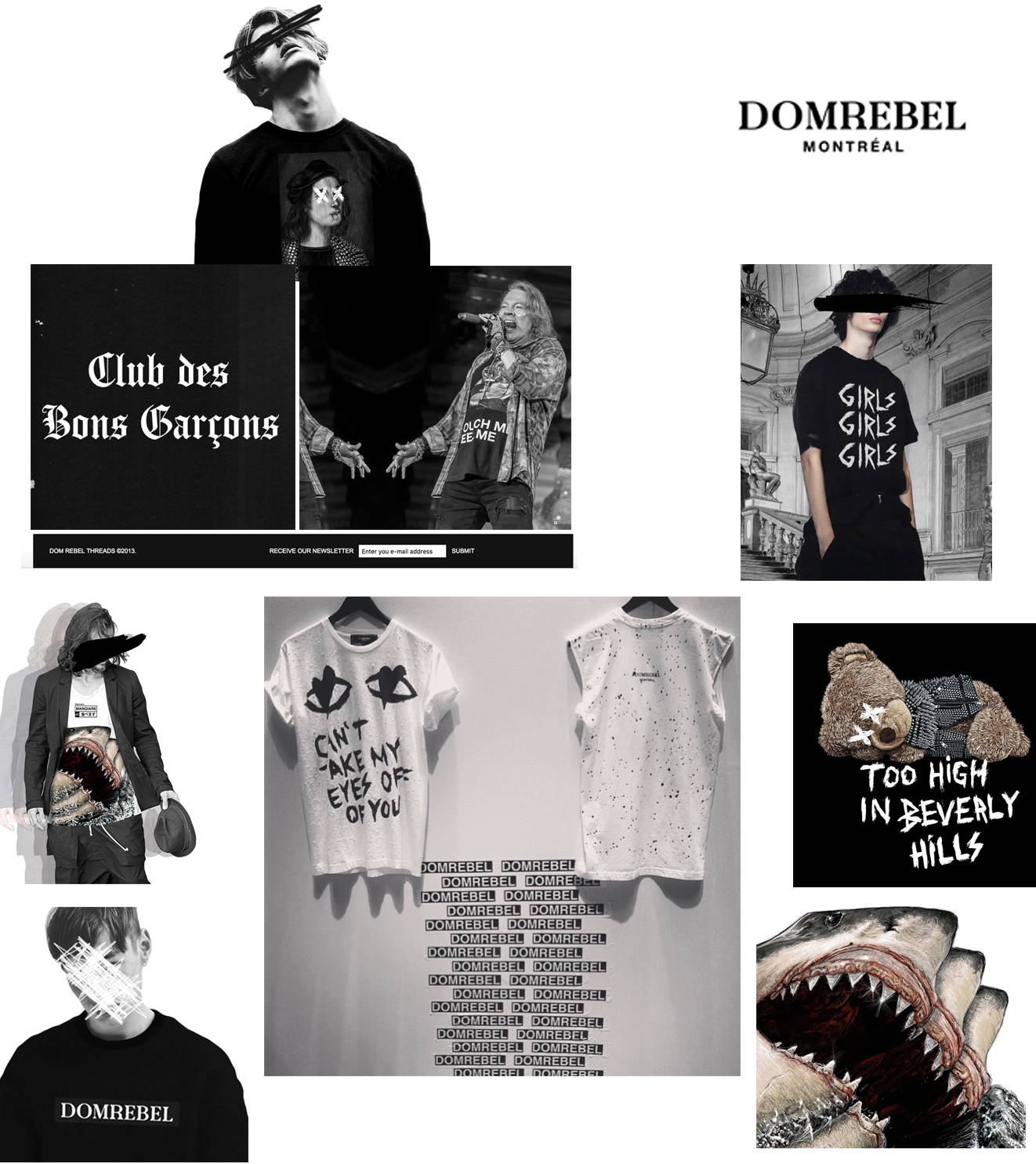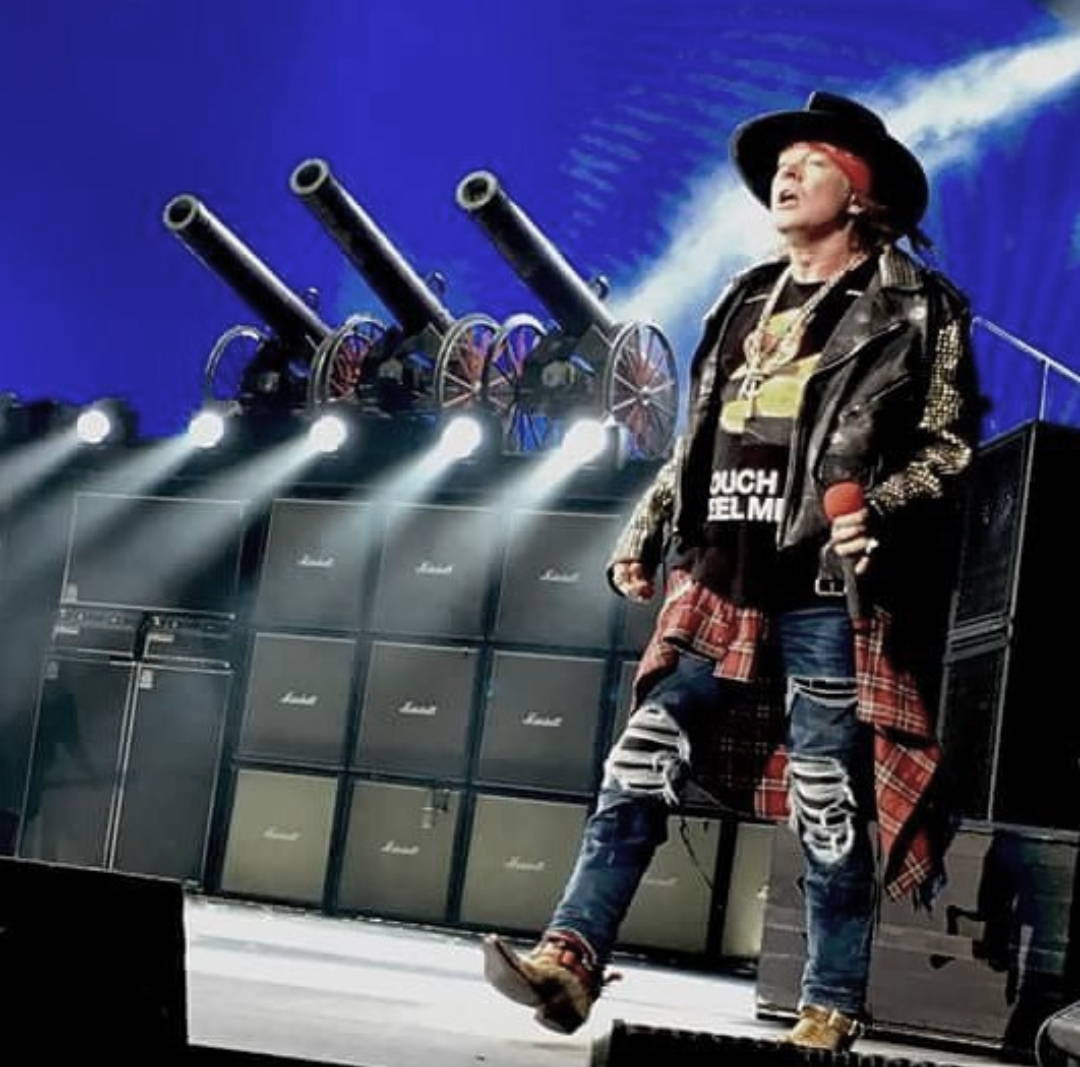 In January of 2015, DOMREBEL presented its collection for the first time at Pitti Uomo in Florence, Italy, in a new section of the show called Unconventional, alongside designers like Hood by Air. This also marked the first time the brand showed at the Tranoi show in Paris. The brand would continue showing at Pitti Uomo until June 2018, after which it started showing exclusively at private showrooms in Milan, Paris and New York.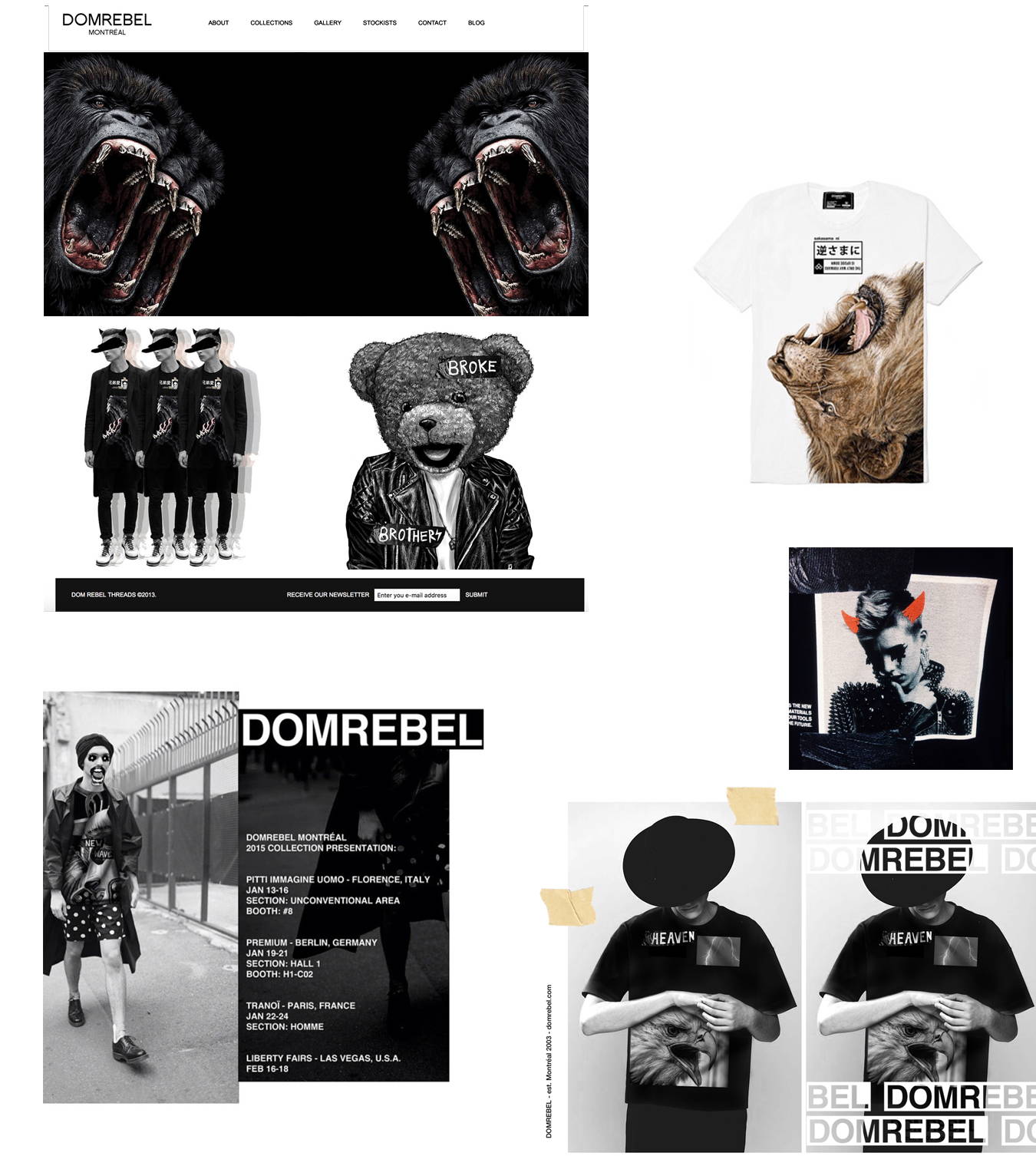 In 2014, DOMREBEL created custom artworks of Jay-Z, Kate Moss and Madonna, and created multiple stagewear outfits for performers, including custom studded t-shirts for DJ Antoine.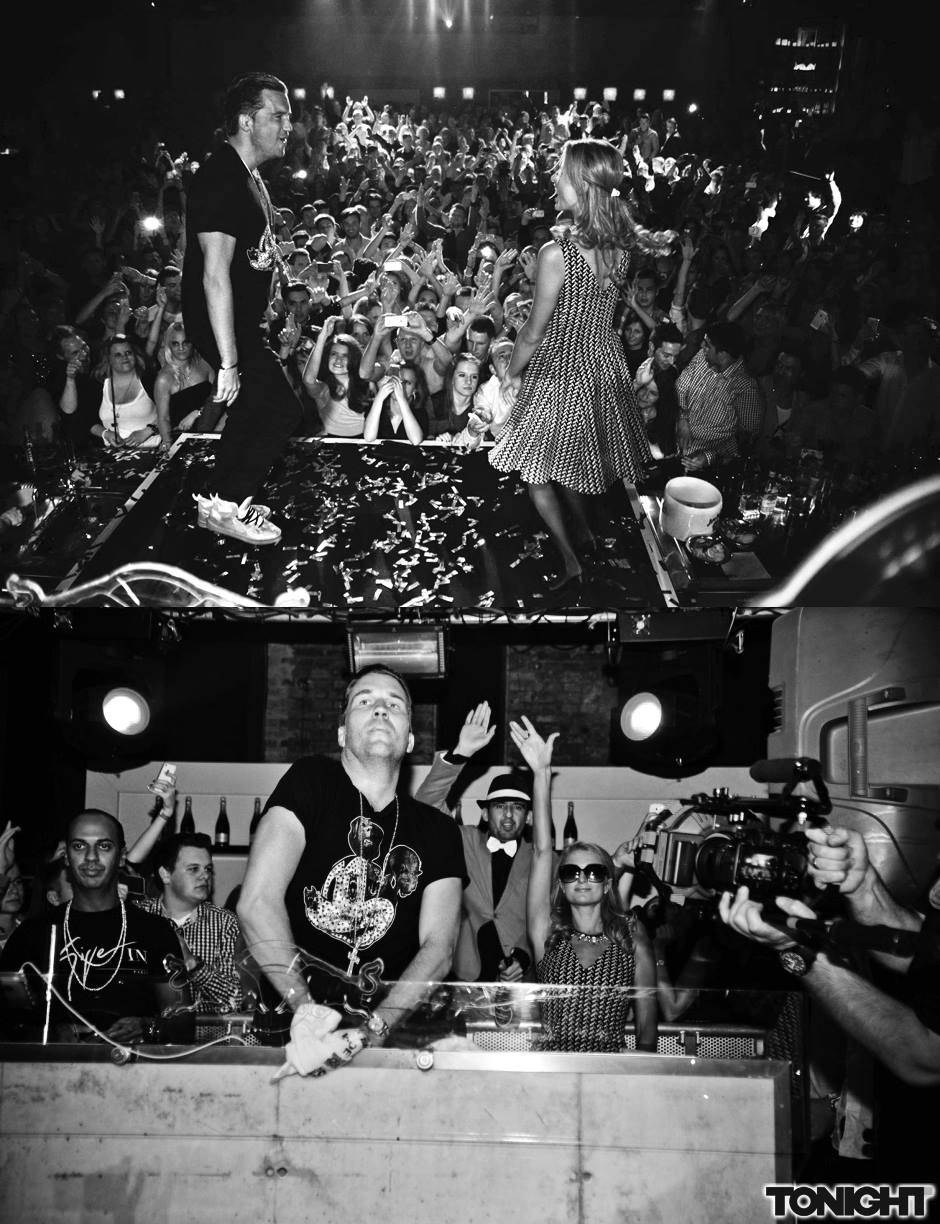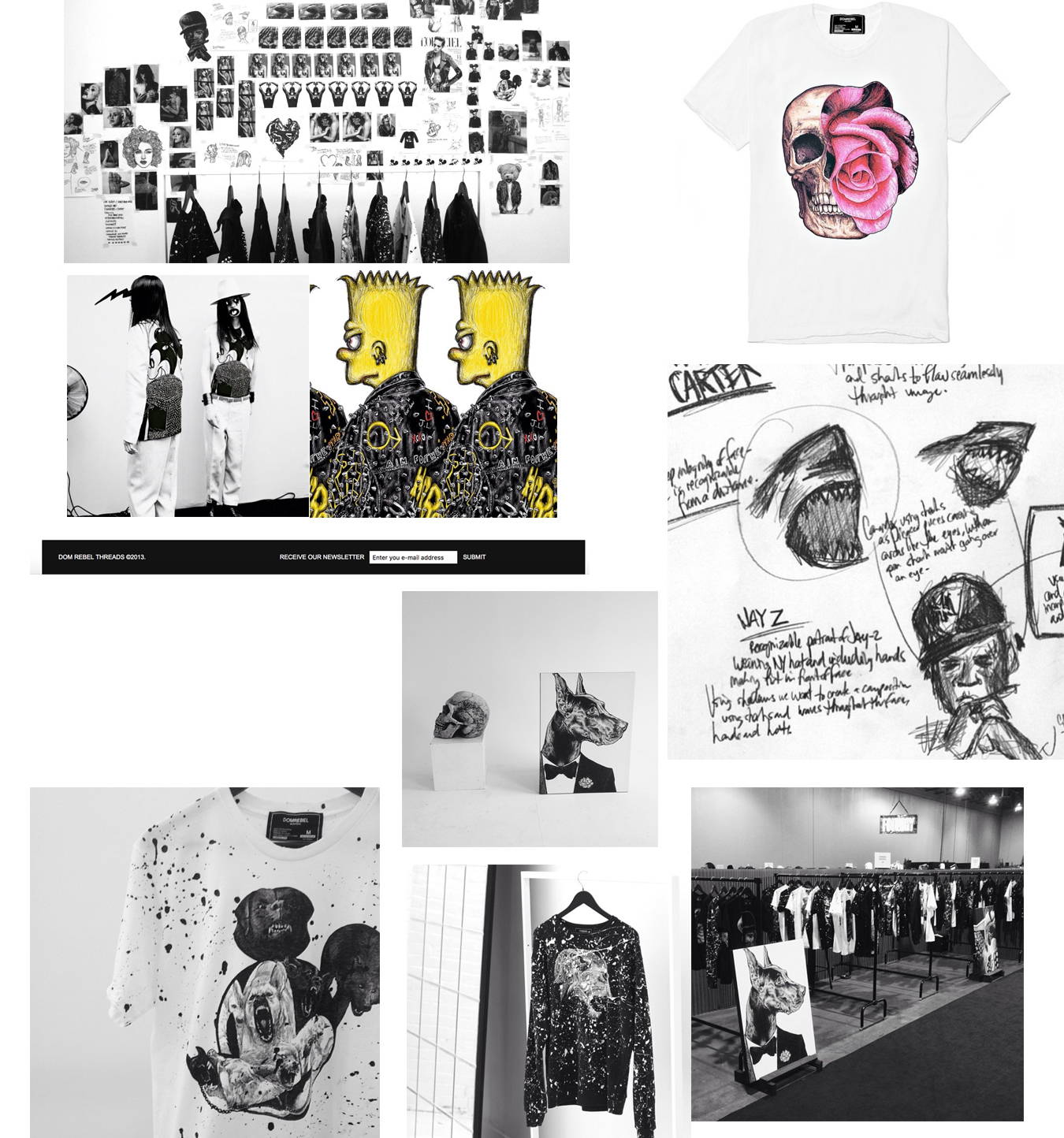 2013 marked the 10-year anniversary of DOMREBEL. To mark the milestone, the company rebranded its logo from a cursive font to a minimalist lettering in black and white. The name Dom Rebel Threads was officially changed to DOMREBEL Montréal in order to better represent the brand's hometown of Montréal (where it also makes its products) on the global stage.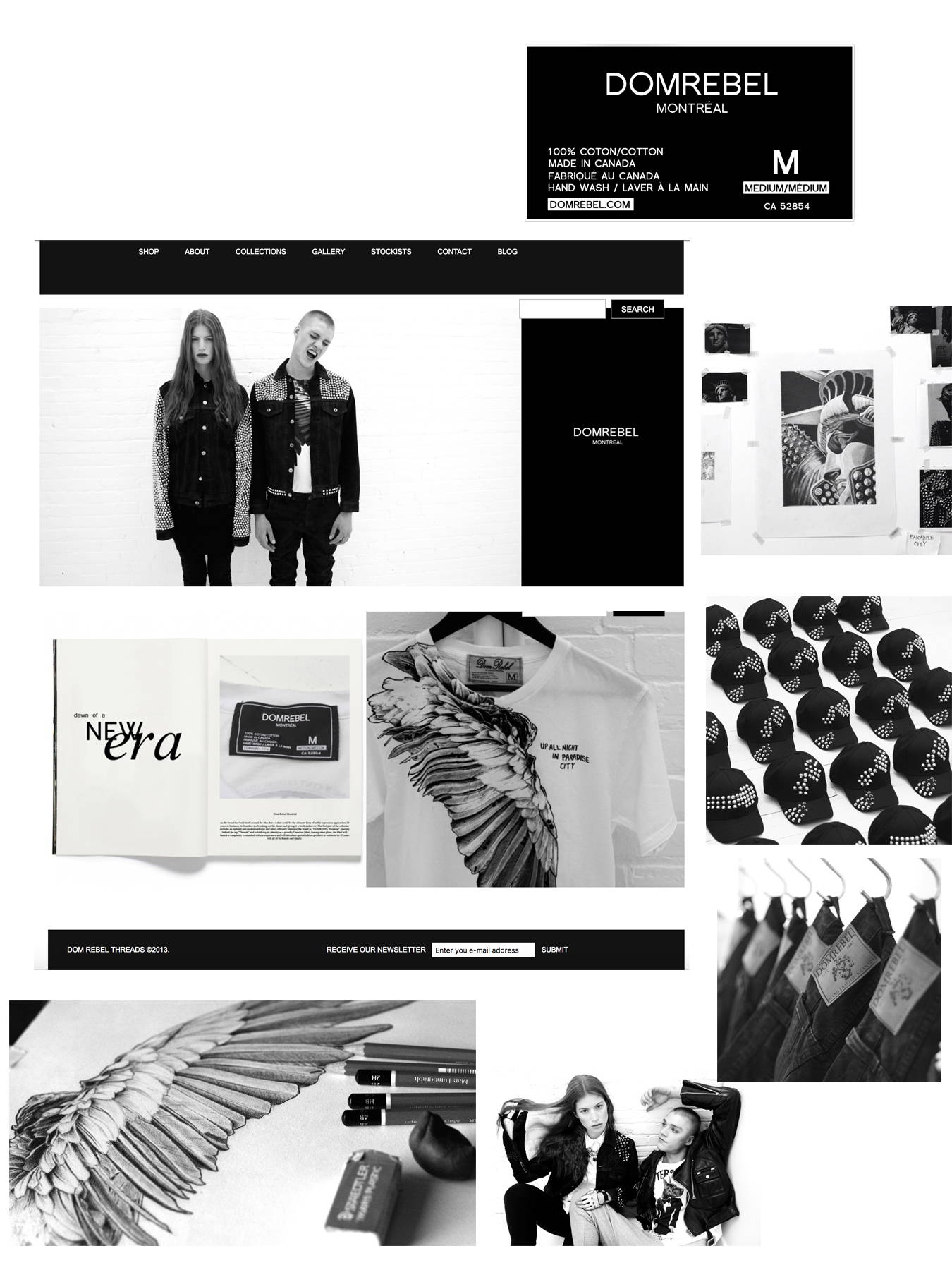 In 2012, the DOMREBEL brand expanded heavily into Germany and several other European markets, where it found success for a number of years. This year also marked the brand's entry into Middle East and Russia, where it continues to have a very strong fanbase today.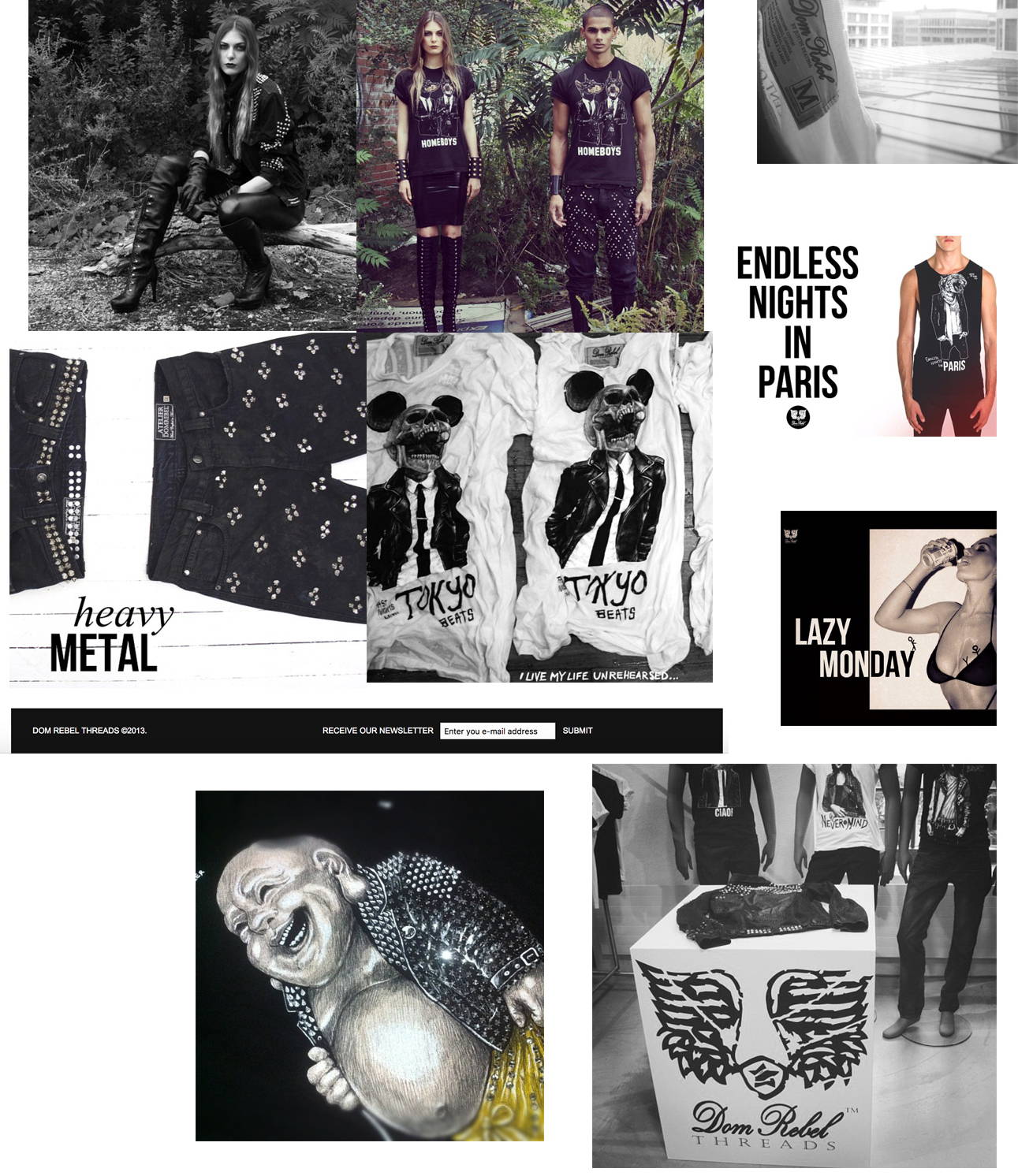 A funny phone call happened in 2011, when someone claiming to be the stylist of U2's Bono & The Edge asked DOMREBEL to create stagewear pieces, including studded jackets and t-shirts, for the band's 360 tour. That phone call resulted in Bono & The Edge wearing custom DOMREBEL outfits for half the year during their tour, and DOMREBEL appearances in the official U2 360 Tour book.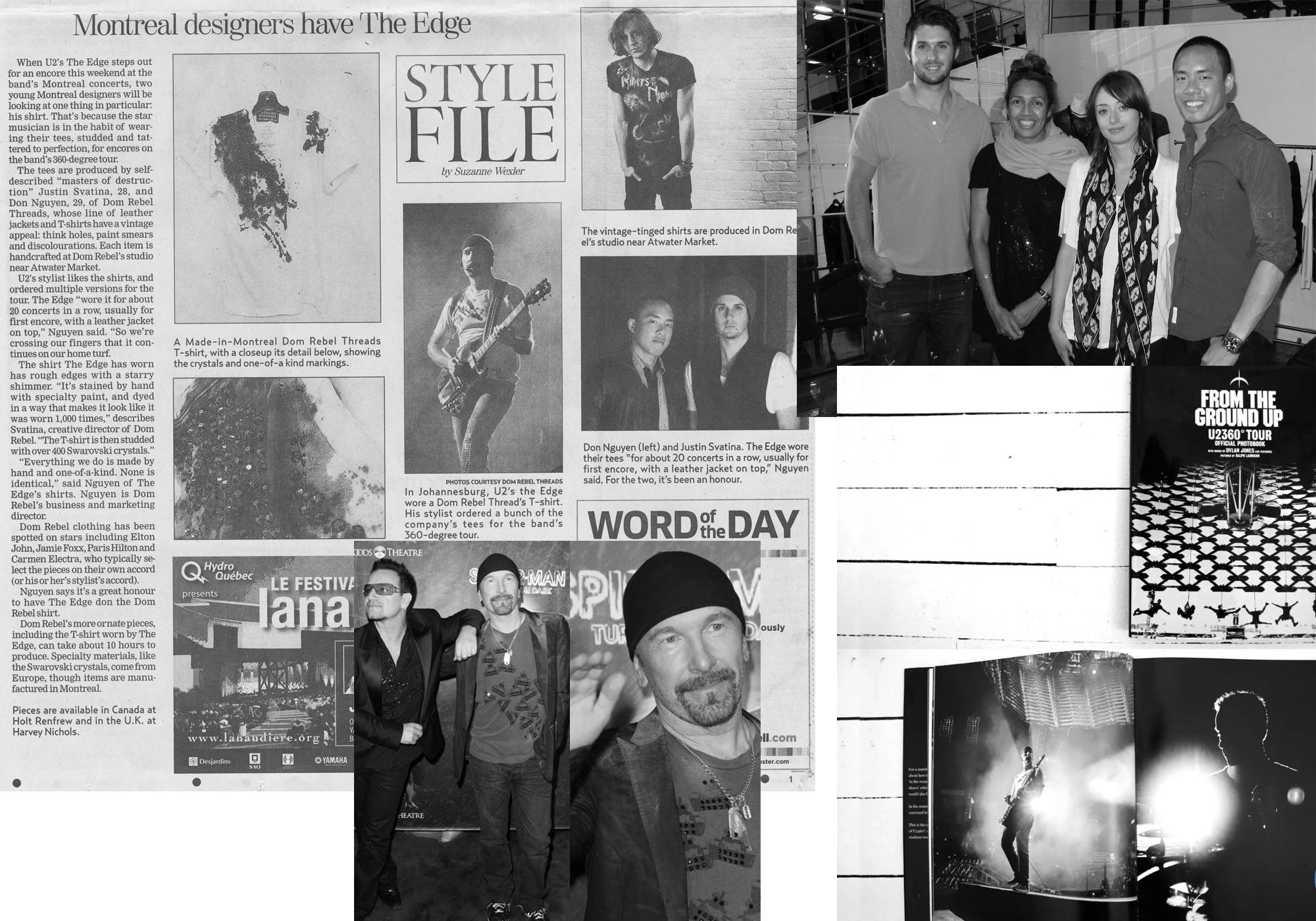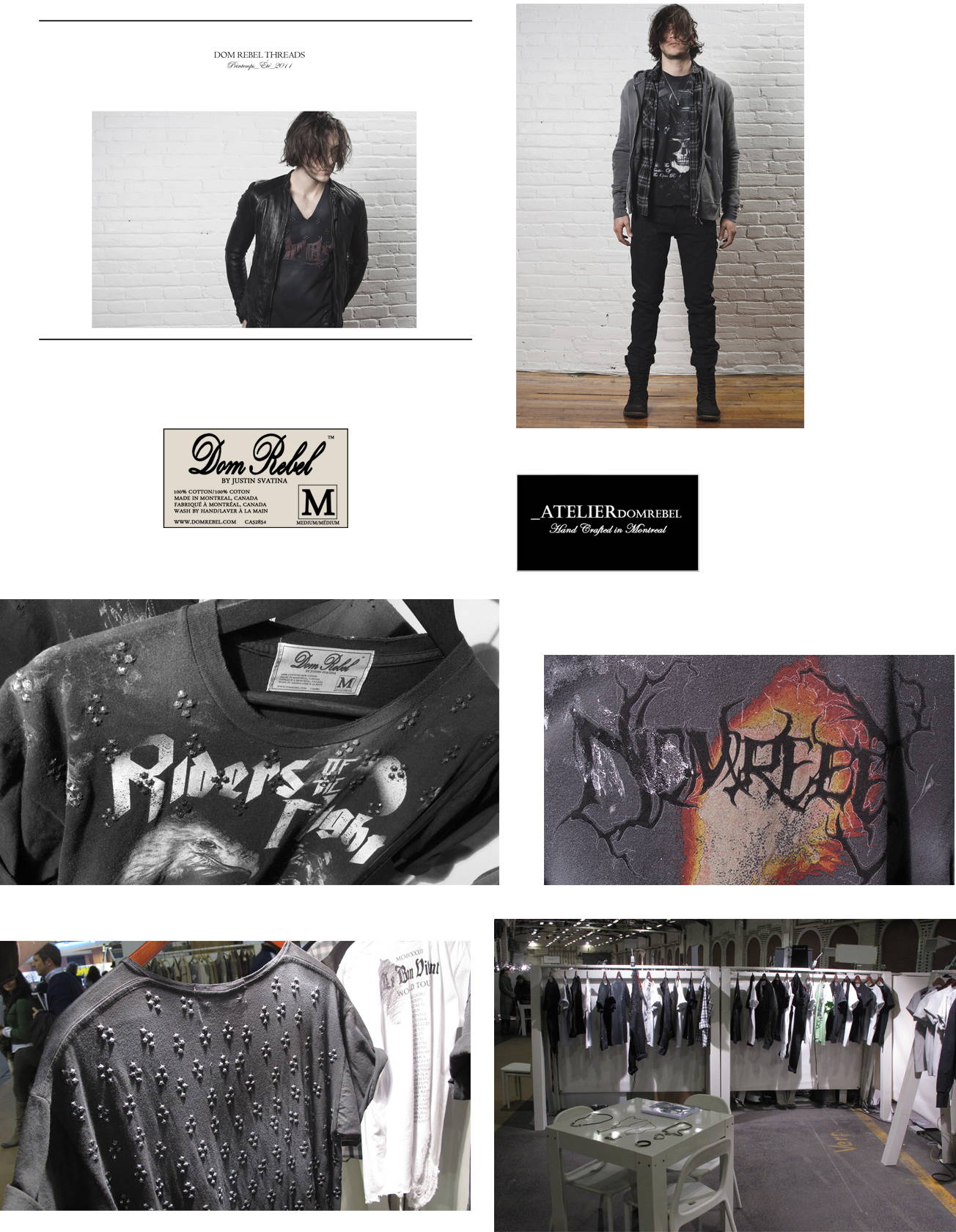 In 2010, DOMREBEL re-embraced its rock'n'roll roots and took some bold moves within the direction of the brand and its products by completely eliminating colour and doubling down its inspirations around motorcycle culture, grunge rock and artisanal craftsmanship. The elimination of colour upset a portion of its loyal followers, but opened up important new opportunities with upscale retailers around the world that took the brand's new identity more seriously than its cartoon-y past. This is just an example of sticking with your gut instinct, and it proved right for the brand.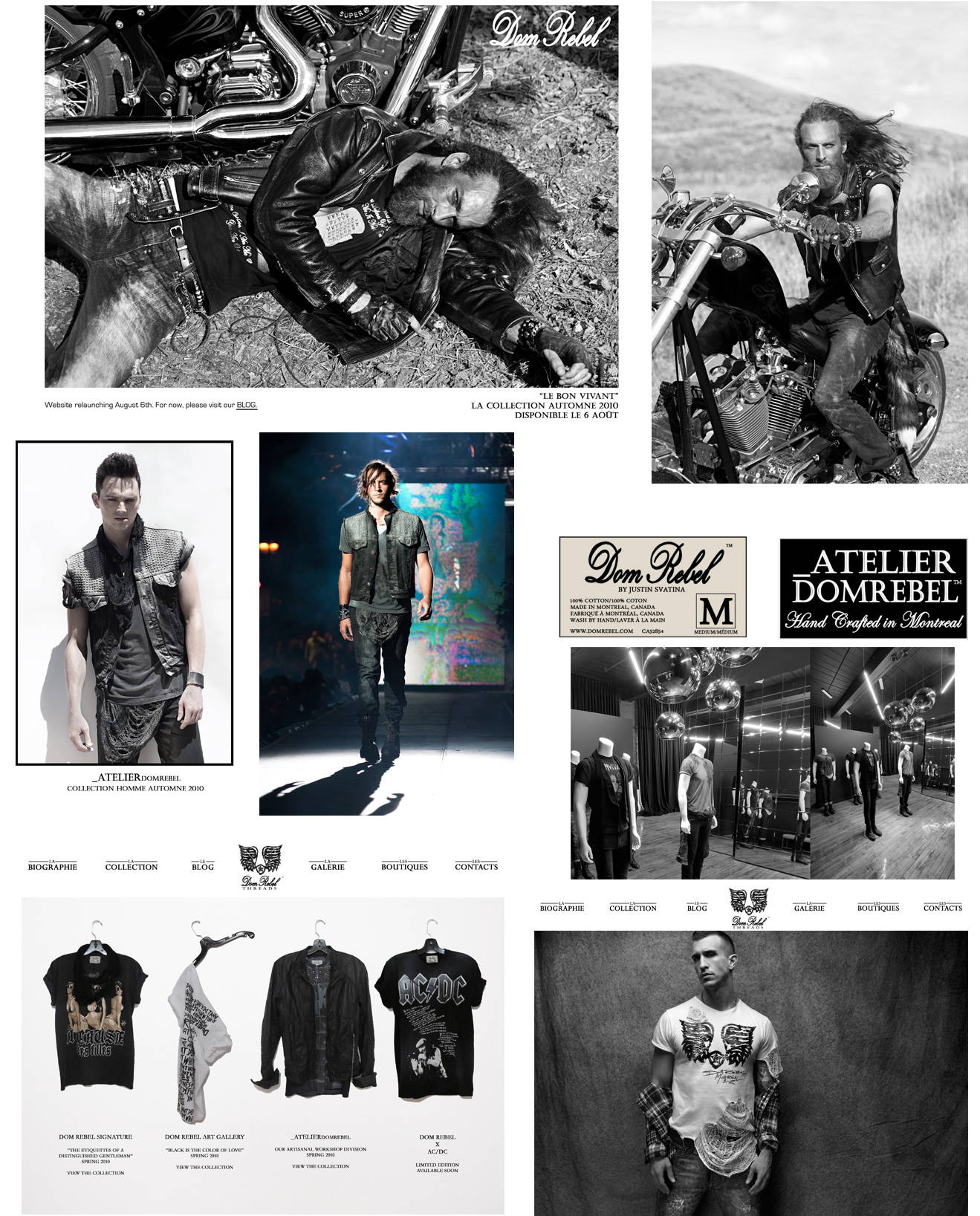 2009 marked the 6-year anniversary of the brand. To mark the occasion, Justin & Don partnered with Moment Factory to put on a high-production fashion show in the garage of the DOMREBEL headquarters in Montréal. There, they set up church benches to host 1,000 guests for a dark and dirty runway show and afterparty. As if there wasn't enough going on that night, they also launched an art gallery showroom in the same building on the same night! See the video of the event below.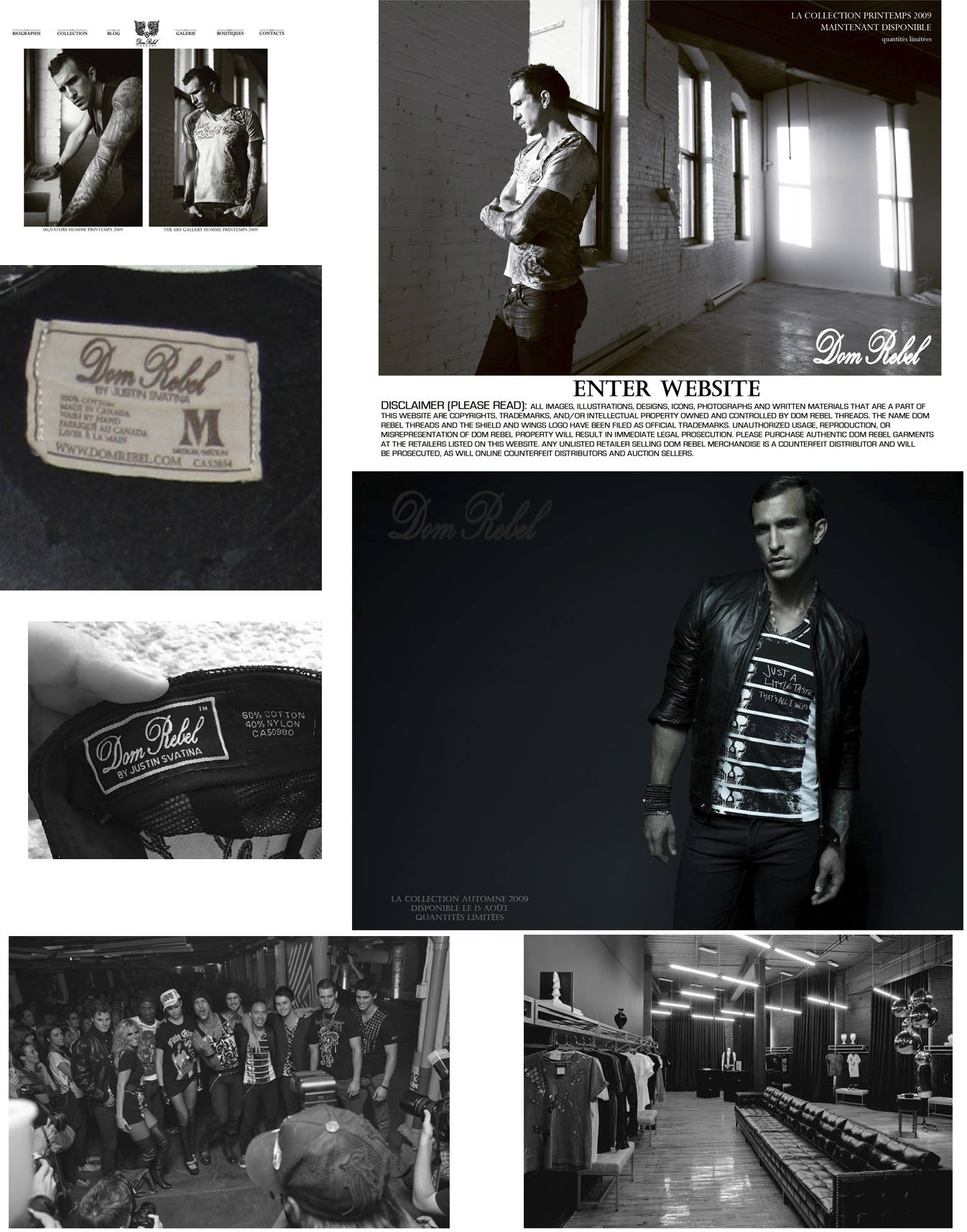 In 2008, DOMREBEL marked its 5-year anniversary with multiple fashion shows in Montréal. The brand had been putting on nightclub parties and runway shows multiple times per year since 2003, and their "Fire in the Disco" party was the final time they did a runway show in a nightclub. There were 2,000 guests present, and a staggering 2,000 more outside that couldn't get in due to the fact that the club was over capacity. This resulted in Ste-Catherine street being temporarily shut down outside, much to amazement of Justin & Don, both of whom were initially worried that not enough people would even show up in the first place. That year, the brand also did live art installations at some of their retail locations, including Holt Renfrew in Toronto and Montreal.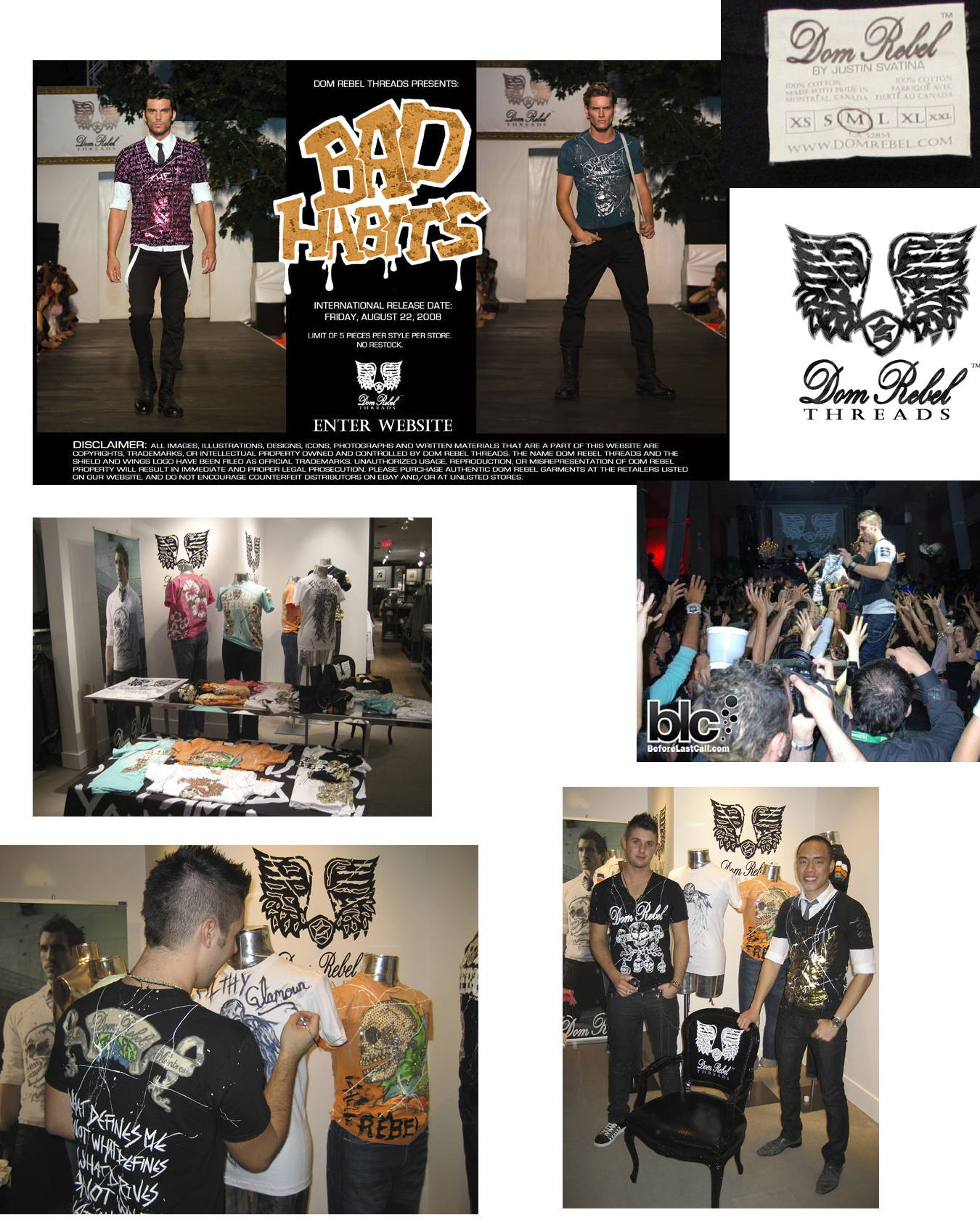 In 2007, DOMREBEL introduced The Art Gallery, a special division of the brand that featured limited edition versions of its clothing that was hand-studded, paint splattered and reworked in artisanal ways that simply could not be replicated in large quantities. The division was originally intended for special orders and celebrity clients, but commercial demand for it grew quickly and it became an extremely popular segment of the brand for many years to come, eventually leading the company to invest heavily into its own team of artisans and workshops in order to produce high-quality garments in Montréal for the long term. The year 2007 also marked the first year that Justin & Don moved their offices and production facility from the basement of their parents' houses to a legitimate headquarters in downtown Montréal, where they hired their very first employees.
In 2006, Justin & Don showcased DOMREBEL for the first time at an international tradeshow in Las Vegas. It was the first time the brand signed on retail clients in the USA, Japan and Europe. It was also a hard lesson for them to understand how to ship to non-Canadian countries, but sometimes you have to learn as you go. This was also a milestone year for the brand in terms of exposure, as it dressed DJ TIESTO on multiple occasions, helping it gain momentum in the nightlife scene.
In 2005, DOMREBEL presented its first runway show during Montréal Fashion Week while blasting Nirvana and Death From Above 1979 as the soundtrack. Their runway collection of distressed jeans with color patchwork and bleached t-shirts were a far cry from the designer collections on display that week, but a standing ovation from the audience that night made Justin & Don think that maybe they were onto something. By the end of 2005, after Justin & Don trekked across the country with a box of their t-shirt samples, DOMREBEL was stocked at 75 upscale retailers across Canada.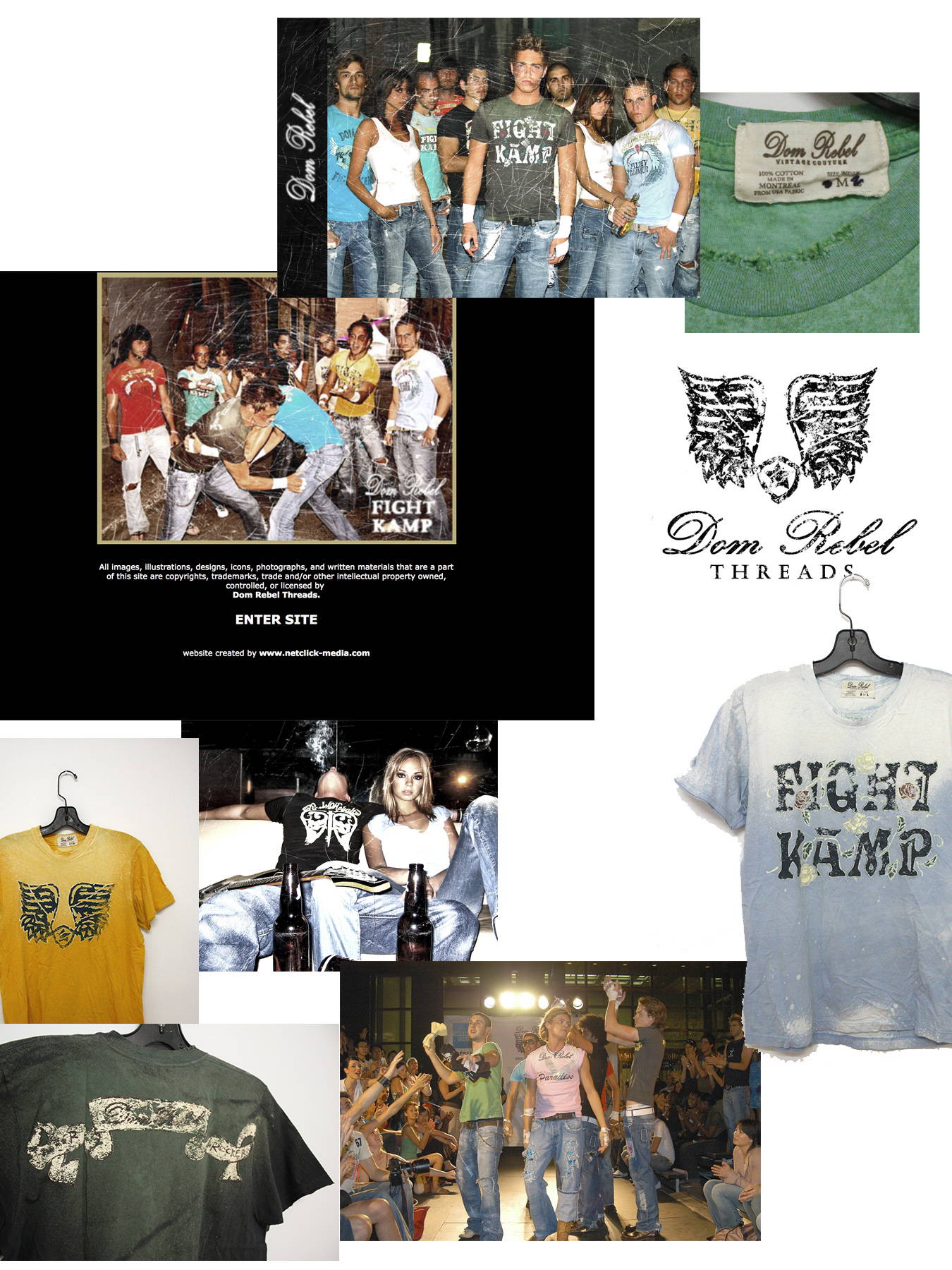 In April of 2004, a mutual friend brought Don Nguyen to visit Justin's makeshift t-shirt boutique in his parent's basement. The two chatted about the potential of the project, and just like that a business partnership was born. Don suggested they move their production and operations to his parents' house, because, well, they had a double garage. By the end of the year, they would get DOMREBEL stocked at over a dozen boutiques in Montreal and Toronto, and they hosted their first runway show in a nightclub that October, dubbed "Fuck Pink" based on their best selling pink t-shirt.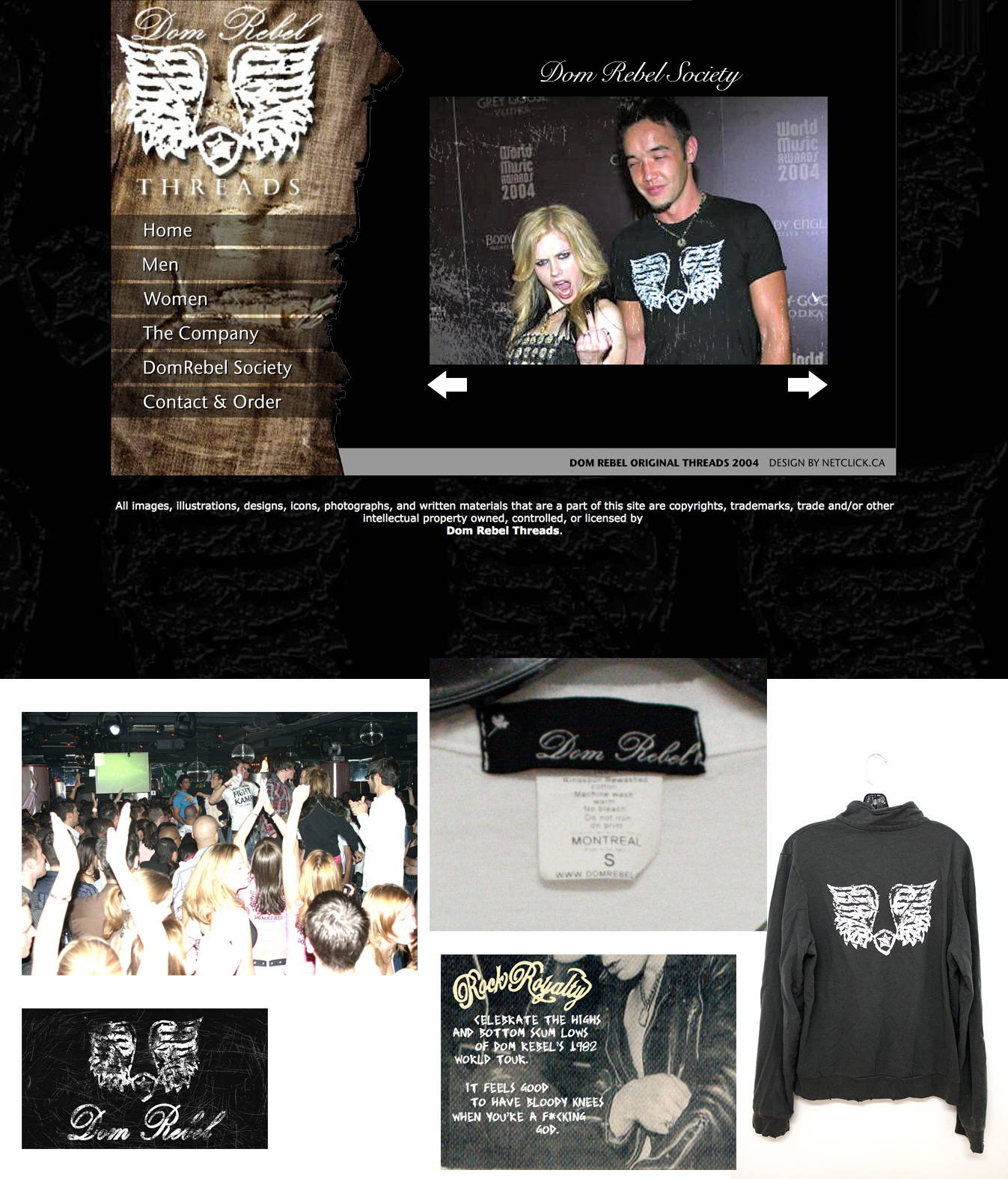 In August of 2003, Justin Svatina had a few drinks with a friend after math class in University, and realized he no longer wanted to be a mechanical engineer or design cars. The next day, in the off-topic section of a Montreal car-enthusiast online chat forum, he wrote that he was starting a clothing line called Dominus Rebellis (which stands for Master of Rebellion). DOMREBEL was born, and its first customers would come from that online car forum to visit a t-shirt shop that Justin set up in his parents' basement, right next to the garage where he would make the first few batches of vintage DOMREBEL tees by hand.